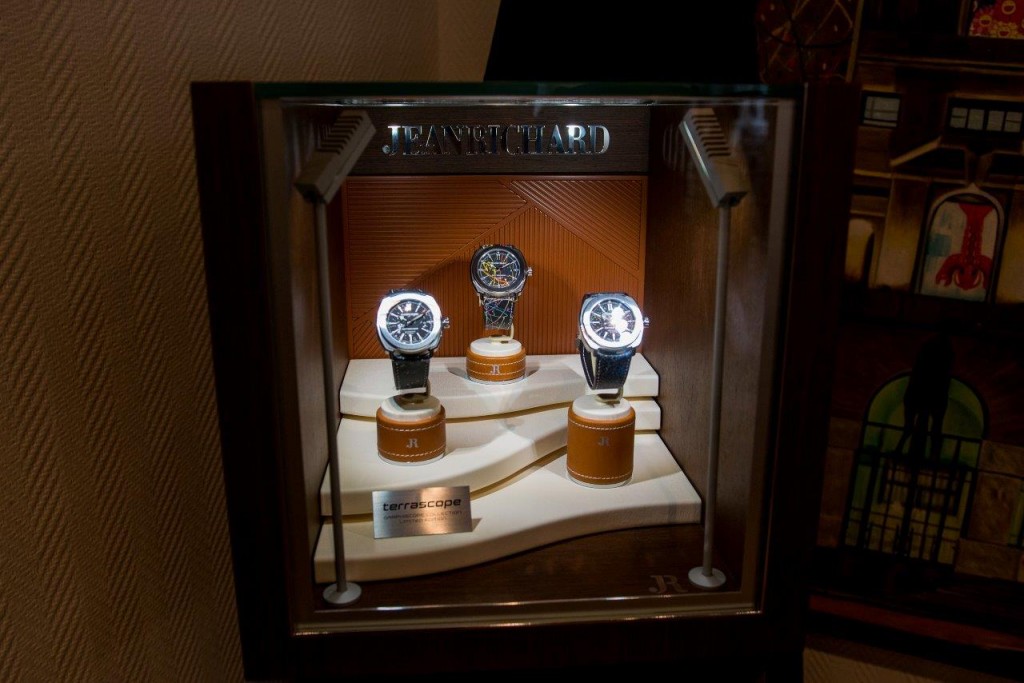 14 Sep

Collab Gully X Kering
Lorsque la philosophie de vie rencontre la philosophie de l'art
La Manufacture horlogère suisse JEANRICHARD s'associe à Gully, artiste reconnu pour son travail dans l'art urbain contemporain. Cette collaboration spéciale sera célébrée lors de l'exposition «Philosophy of Art» à Opera Gallery Paris. Cette exposition présentera les dernières oeuvres de Gully et sa collaboration avec JEANRICHARD. Inspirée et signée par l'artiste lui même, la collection spéciale «Graphiscope», composée de trois pièces, chacune limitée à 25 exemplaires, sera dévoilée.
À propos de JEANRICHARD
Les montres JEANRICHARD s'adressent à ceux qui aiment relever les défis, partir à la conquête de l'inconnu, profiter pleinement de la vie en savourant chaque instant comme si c'était le dernier. Des aventuriers du quotidien, qui prônent l'authenticité et refusent les compromis, tant en matière de qualité que de design. Des esprits libres, qui font fi des conventions et imposent leurs propres règles, voyageant hors des sentiers battus. Les montres JEANRICHARD se déclinent désormais en quatre collections, qui rendent hommage aux éléments qui gouvernent la nature : Terrascope, Aquascope, Aeroscope et 1681. La terre, l'eau, l'air, et le feu de la passion qui anime notre marque depuis plus de trois siècles et enflamme chaque jour un peu plus les globetrotters les plus sophistiqués.
JEANRICHARD appartient au groupe Kering, qui figure parmi les leaders mondiaux de l'habillement et des accessoires et développe un ensemble de marques puissantes de Luxe et de Sport & Lifestyle.
 
Where philosophy of life meets philosophy of art
The Swiss watch manufacturer JEANRICHARD is partnering with Gully, known for his contemporary street art, for a special collaboration.
This partnership is presented in preview at Opera Gallery Paris for the "Philosophy of Art" exhibition. It will feature, amongst Gully's latest paintings, a special exhibit on the collaboration with JEANRICHARD.
Inspired and signed by the artist, the "Graphiscope" collection composed of 3 watches, each limited to 25 pieces, will be unveiled.
About JEANRICHARD
JEANRICHARD watches have been conceived for all those who enjoy challenges, revel in the unknown, and would like to live their lives to the fullest, savouring the best of each moment. These are
the everyday adventurers, who enjoy authenticity and will make no compromises, be that on quality or on design. These are independent spirits who scorn conventions and play by their own rules, travelling off the beaten paths. The art of life JEANRICHARD timepieces come in four different collections that each pay tribute to the elements of our universe: Terrascope, Aquascope, Aeroscope and 1681. Earth, water, air, plus the fire of passion that has inspired our brand for over three centuries and has excited sophisticated globetrotters every day anew.
JEANRICHARD is part of the Kering Group, a world leader in apparel and accessories, which develops an ensemble of powerful Luxury and Sport & Lifestyle brands.